What's new Hobart in November you ask? …. Join Angela Vincent and Jane Crosswell for a day of purposeful Self-Hypnosis and intentional Yoga Nidra experiences in Hobart, Tasmania on the 11.11.2018.
Have you noticed that we're swiftly moving into Summer and those around us
are already discussing plans for 2019?
Let's get a jump on the new years' resolutions and kickstart your Body and Mind intentions
and move from the belief of 'I should' to 'I can' with a sense of certainty.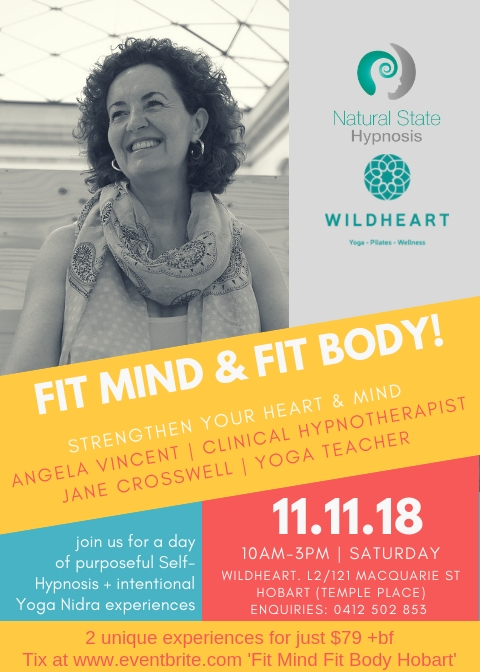 Tix available here @eventbrite Fit Mind & Fit Body
Ange Vincent ~ When did you begin to believe that you weren't good enough? Embrace your doubts and fears, they are your gem's. Once you've established an understanding of the stuck-ness, you're now free to step into it and move into pleasurable responses and real experiences of kindness, gratitude and love.
Hypnosis allows us to loosen the limiting beliefs of not being good enough. Ange will take you through several exercises to release those past beliefs into the passionate energy of your original blueprint.
Jane Crosswell – A clear mission statement defines how you want to experience life. Most of us don't take time to stop and work on what we really want – the irony is, that we are the only ones who can decide this. Without a clear intention, our lives continue to be driven by pre-programmed beliefs, behaviours and habits. Sometimes its difficult to allow ourselves the time and space to explore our beliefs.
Building on work with Angela, Jane will take you through a fun and simple way to explore our real intention. We will then use those intentions in a blissful yoga nidra meditation to embed your true life's purpose and achieve total relaxation. Have questions about Fit Mind & Fit Body with Self-Hypnosis and Yoga Nidra ? Contact Angela Vincent & Jane Crosswell